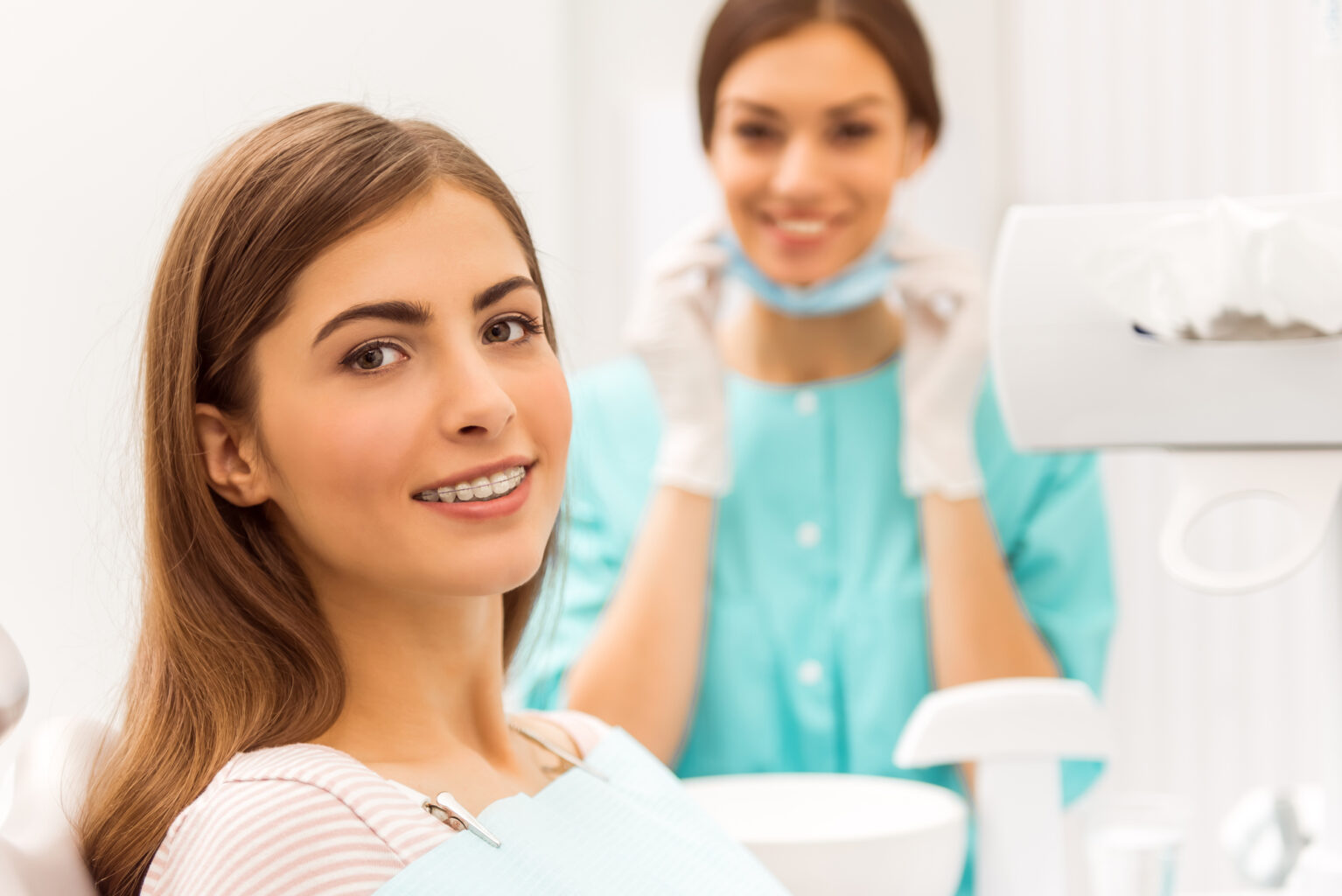 When thinking of braces, most people think about their awkward teenage years. Unfortunately, not everyone who needed braces as a teenager were able to get them, but it's never too late. According to the American Association of Orthodontists, the purchase of adult braces and Invisalign® went up by 40% in the last decade. Adults with issues of spacing, crowding, crooked teeth, overbite, underbite, or crossbite can still greatly benefit from braces. Not only will braces improve your confidence and smile, they can also improve your overall health. At the office of Timothy E. Mickiewicz, DDS, we know the decision to get braces can be difficult, especially when they are for adults, so we offer our patients a few different options:
Traditional metal braces
Invisalign®
AcceleDent
To set up an appointment with Dr. Mickiewicz, contact us today. Our experienced, friendly staff will be happy to help you choose the best option for obtaining a beautiful, healthy smile.
Traditional Metal Braces
Made from heavy-duty stainless steel, these braces are an effective and affordable option. If a toothy, bright green smile comes to mind when thinking of metal braces, think again! These are now made with clear brackets for low visibility, and when paired with clear bands, they are hardly noticeable!
Before the first official appointment, you will want to set up a consultation with Dr. Mickiewicz to evaluate and discuss the best option for your teeth. If metal braces are the consensus, you can set up your first official appointment to receive x-rays, photographs of your face, teeth, and mouth, and possibly spacers. He will then use iTero® digital scanning to create the perfect mold of your teeth.
The next appointment is the big one! The painless procedure of putting braces on begins with Dr. Mickiewicz placing a device in the mouth to keep the tongue in place and the mouth dry. He will then apply a substance that prepares the teeth for bonding. The braces are set on the teeth with an adhesive and dried with a curing light. The wire is then woven into the brackets, and the procedure is complete!
Pain and discomfort are normal side effects for a couple of days after the procedure. Dr. Mickiewicz will supply you with wax reduce rubbing caused by the brackets, and over-the-counter pain relievers can help, but remember– the pain means your teeth are that much closer to a radiant smile!
Invisalign®
For less severe issues, Invisalign® can be a wonderful option. These clear aligners are custom made for every shift of your teeth. Every two weeks, new aligners are sent and must be worn for at least 22 hours a day—only taken off when eating or brushing. On average, this process last more than a year, but varies depending on each persons' needs. Call today at 916-469-918 to set up an appointment to discuss with Dr. Mickiewicz about how long this process would take for you.
AcceleDent
Does a year to a year and a half with braces sound overwhelming? Are you wanting your braces off before your wedding or another special event? AcceleDent is the answer!
In conjunction with braces or aligners, AcceleDent helps facilitate and accelerate tooth movement by 50% when used for twenty minutes a day, every day. This means instead of wearing your braces for a year, you could be flashing a new, beautiful, healthy smile in just six months! This state-of-the-art invention uses vibration to help teeth adjust quickly and reduces discomfort by 71%.
Since the creation of this revolutionary invention in the early 2000's, many case studies have been completed that prove the effectiveness of this tool. To read about these case studies, or learn more about the process, visit the AcceleDent website here.
Schedule an Orthodontic Appointment Today
Don't let a number keep you from living a more confident, more healthy life. If you have crooked, spaced, or crowded teeth or are suffering from an overbite, underbite, or crossbite, braces can offer a low-profile, effective solution regardless of your age. To learn more, or to schedule a consultation with Dr. Mickiewicz, call our office at 916-469-9178 or contact us online anytime