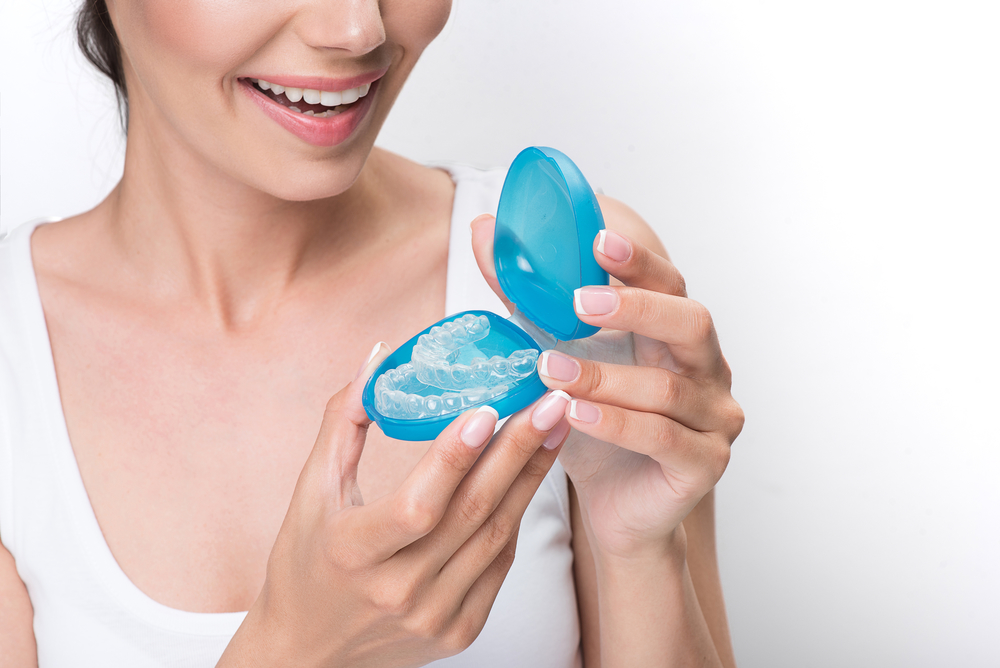 Individuals who want to straighten their teeth without metal braces can benefit from Traditionally an orthodontic option for adults, Invisalign now offers aligner trays for teens. Because of the developmental differences between teens and adults, there are a few differences between the two options. Today, Dr. Mickiewicz explores the similarities and differences between the two.
How are Traditional Invisalign and Invisalign Teen The Same?
Traditional Invisalign and Invisalign Teen have the same primary purpose – to move the teeth into their desired positions over time. Both systems use a series of removeable, clear plastic trays to achieve this goal. Whether you are wearing traditional Invisalign or Invisalign Teen, there are a few things you can expect. You will need to:
• Wear your aligner trays for approximately 22 hours every day.
• Change out your current set of trays for the next one in the series. This should be done every two to three weeks, at the recommendation of your dentist.
• Remove your trays when eating, drinking, or cleaning the teeth.
• Clean your trays daily to reduce harmful bacteria and plaque.
• Attend all scheduled visits with your dentist.
How are Traditional Invisalign and Invisalign Teen Different?
Younger patients still have growing bones. Therefore, there are a few extra features when you choose Invisalign Teen. We will explore these differences in the sections below.
Invisalign Teen Has Extra Space for Developing Teeth
Teenagers have growing teeth and developing dentition. For this reason, traditional Invisalign is not always appropriate for younger patients. However, Invisalign Teen evolves as new teeth erupt. In fact, the aligners can actually help guide these new teeth into place.
Invisalign Teen Has Indicator Dots
Teenage life can be busy. It's not always easy to remember to wear your aligners. Invisalign Teen has tiny blue indicator dots. These fade away over time, so that the doctor, the patient, and the parents can know if the trays are being worn enough to be effective.
Invisalign Teen Can Move Teeth Roots
In some cases, the teeth roots must be moved in order to fully correct alignment issues. Invisalign Teen aligner trays have power ridges which help guide the roots into their appropriate locations.
Invisalign Teen Offers Complimentary Replacement Trays
Teenage patients have a lot going on. Between school, music, sports, dances, and friends, it's possible to lose, misplace, or break a tray or two. One of the most significant benefits of Invisalign Teen is that it includes up to six replacement aligners, free of charge.
Personalized Care for Optimal Results
Invisalign can correct a variety of orthodontic issues, including crowding, overlapping, gaps, rotated teeth, and more. In fact, this system can address many of the same problems as traditional metal braces. However, each patient is unique. For this reason, Dr. Mickiewicz caters treatment to the specific needs of the individual. During a consultation at our practice, he can help determine if Invisalign will be an effective treatment option for you.
Learn More about Invisalign
Anyone who has worn traditional metal braces understands the challenges that accompany them. If orthodontic issues are causing you to be self-conscious or embarrassed, Invisalign can help you discreetly achieve the straighter smile you've always wanted. In fact, because the trays are virtually invisible, no one will even be able to tell you are undergoing treatment. To learn more, or to schedule a visit with Dr. Mickiewicz, call our Sacramento, CA dental practice at 916-469-9178 or contact us online anytime.