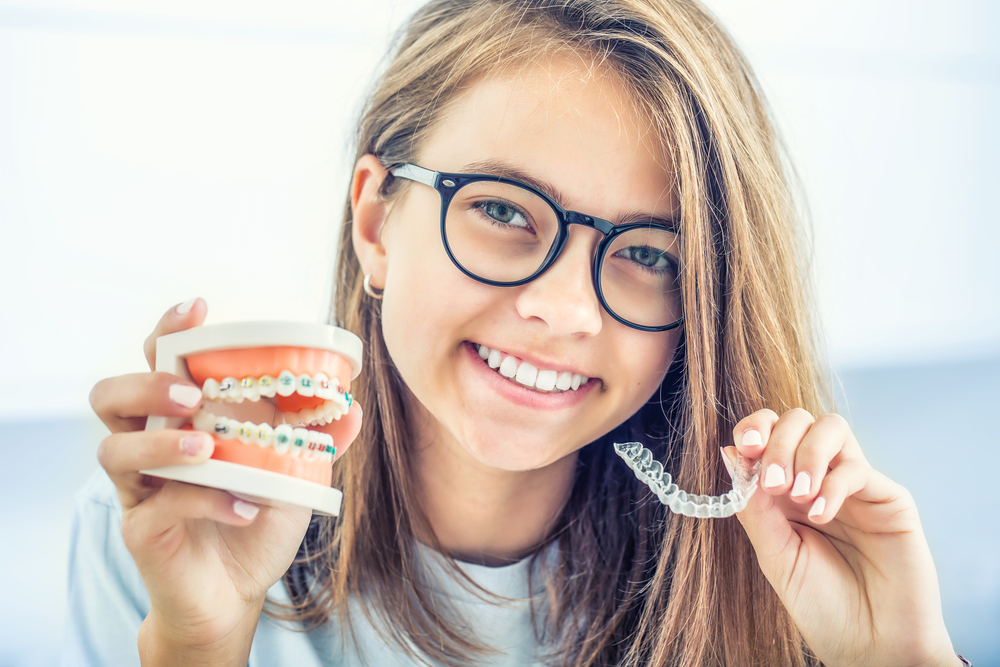 Invisalign is an amazing, revolutionary way to straighten teeth without wearing braces. Made of a proprietary medical-grade plastic called SmartTrack, the aligners shift teeth in phases. Each aligner takes teeth from point A to point B in about two weeks. Then the patient discards his current aligner and wears the next in his series.
As a certified Invisalign provider, Dr. Mick, a dentist in Sacramento, has extensive experience with Invisalign, as well as traditional orthodontics. His training and casework on TMJ patients have given him a comprehensive understanding of occlusion and function, which are important components of all ortho cases. Dr. Mick also tests new technology for a number of manufacturers. His finger is on the pulse of dental innovations like AcceleDent Optima. Learn more about that later in this post.
Benefits of Invisalign Treatment
Because they're made of plastic, Invisalign aligners don't rub against cheeks and cause mouth sores like metal brackets do. Patients never have to endure poking wires and brackets, loose components, or adjustments.
Compared to traditional braces, Invisalign takes less time in most cases. Patients wear aligners for 6-18 months, whereas traditional braces usually take two years to realize the same outcome.
The primary benefit of Invisalign over traditional braces is that the aligners are clear and virtually invisible on teeth. They're also removable, so patients can remove the aligners when eating a meal, cleaning teeth, or attending a special event.
Overall, Invisalign has a 96% success rate, so only 4% of patients don't experience the predicted results. Dr. Mick, as a certified Invisalign dentist in Sacramento, is well-versed in screening patients to make sure their Invisalign treatment will succeed. If Invisalign isn't an option, Dr. Mick will provide alternatives. For some patients, veneers are appropriate, while others will need traditional orthodontics. Clear brackets are available to make traditional braces less conspicuous.
Potential Problems for Invisalign Patients
With such a high success rate, few patients experience any problems with Invisalign. Non-compliance is a concern, though. Invisalign aligners must be worn 22 hours per day to ensure a patient remains on track with treatment progress. Not wearing the aligners for 22 hours a day can result in relapse, in which teeth shift back toward their original position.
Non-compliance that results in relapse creates the need to revise the treatment plan. The patient will need new aligners and treatment completion will be delayed. Furthermore, revising and extending treatment creates additional costs for the patient.
Quick Tips
Patients who use tobacco must stop during Invisalign treatment.
Patients should remove their aligners when eating or drinking anything other than water. The starches, including sugars, that feed bad bacteria can become trapped under the aligner and cause tooth decay.
Some patients notice a change in how they pronounce words and enunciate speech. Particularly, making the "s" sound can cause a temporary lisp. Most patients do not experience this.
If your Invisalign aligners discolor, soak them in Invisalign Cleaning Crystals to restore their transparency.
Invisalign may cause jaw pain or mild headaches, as is expected with all orthodontic treatments. A small number of patients experience nausea and dizziness or headaches while using Invisalign.
Some people develop a dry mouth, called xerostomia, which can be treated by using artificial saliva (spray or gel) or drinking more water throughout the day.
A tiny number of patients are allergic to the plastic in aligners. Anyone with an allergy to plastic should talk with Dr. Mick about this concern prior to getting Invisalign. Alternatives may be available.
The rumor that Invisalign causes weight loss is untrue. Some patients lose weight because they avoid snacking between meals while wearing aligners.
When Invisalign Won't Work
With bridgework
With dental implants
For some patients who have TMJ disorder
To rotate twisted teeth
To pull a tooth further out of the jaw
For patients with an allergy to plastic (rare)
About AcceleDent Optima Speeds Teeth Movement
AcceleDent Optima emits vibrations that speed the movement of teeth during orthodontic therapy. This clinically proven technology can accelerate teeth movement by 50%!
More Resources for Invisalign Patients
At www.drmickdds.com, you'll find a wealth of information about Invisalign, including costs and before-and-after photos. Take a few moments to explore, and call Sacramento dentist Dr. Mick if you have questions or to schedule a one-on-one consultation.
Invisalign Teen Information
Before & After
Invisalign Testimonials
Invisalign FAQs
Cost of Invisalign
Call Sacramento Dentist Dr. Mick for Your Consultation
Are you ready to discuss Invisalign for your smile? Call Dr. Timothy Mickiewics' Sacramento dental office at 916-469-9178 today to schedule your Invisalign consultation. We are accepting new patients of all ages and offer financing options to help our patients afford the dental care they need, as well as the smile they want.