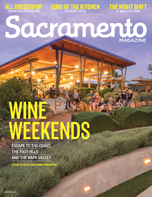 Well friends, it has happened again. I am the face of TMJ therapy and dental sleep medicine in Sacramento, California–according to Sacramento Magazine at least!
It's a great honor to be recognized by my community for helping people who are in pain. It's a double honor to be featured and singled out like this for the second year in a row; I am humbled by the appreciation it represents.
My hope is that this extra bit of publicity for my practice will help more patients who struggle with TMJ disorder and unresolved sleep breathing disorders find me, so I can help them find a way out of their situation.
Some of my most rewarding experiences as a care provider have been helping patients of last resort—those who've struggled with pain and poor health for years and were on the verge of giving up. They are the reason why I continue to research therapies and seek for innovations in this field. If an accolade like this help me connect with patients, then I am all for it!
The article reads as follows, and you can view digital copies of the magazine here.
Over the past 30 years, Dr. Mickiewicz has developed a comprehensive practice that truly integrates medicine and dentistry. Creating a "clinic without walls," Dr. Mickiewicz has partnered with major medical groups in Northern California to treat complex facial pain and sleep issues, often as the doctor of last resort.
He is a pioneer in the use of oral appliances for treating sleep apnea and other breathing disorders. Known throughout the medical and dental community for his vast, evidenced-based knowledge, he is called upon to testify as an expert, render second opinions and to be an educator for both physicians and dentists.
Decades spent as a restorative dentist strengthen his resolve to provide patients with the most conservative treatment, while embracing cutting-edge, alternative pain, breathing and orthodontic therapies. Dr. Mick's spare time is devoted to family and local philanthropic endeavors focused on health care innovation and theater arts.
                FACES of SACRAMENTO 2017, Sacramento Magazine
About the Author: Dr. Mickiewicz owns a private practice in Sacramento and lectures across the nation on TMD treatments. He is a diplomate of the American Academy of Pain Management and holds membership in many professional associations for dentistry, sleep medicine, and TMD. In addition, Dr. Mick, as his patients call him, founded Pacific Orofacial Pain Consultants, a team of experts in various disciplines, who tackle the issue of TMD pain and treatment, to help sufferers find relief from chronic pain. To talk with Dr. Mick, call his Sacramento dental office at 916-457-7710.